aLoftyLife Tennis Services
For Mini, Kiddy & Juniors
Juniors will be placed in their suited level group (Beginner, Beginner Int., Intermediate, & Advanced)


Mini Tennis (4 & 5 yrs)
Kiddy (6 to 9 yrs)
Junior Tennis ( 10 to 12 yrs)
Teens Tennis (13 to 17 yrs)
Tennis Team (13 to 18 yrs)
Private Lessons
For Adults
Men's & Ladies' Night
Cardio Tennis
Adult Tennis Workshop
Private Lessons

Group Lessons
Where is the yellow ball flying?
A.L. Tennis runs courses in the Fall, Spring & Summer Months at TC Füllerich in Gümligen.
In Winter, courses are taught indoors at TC Tivoli in Ittigen or at Center court in Belp.
aLoftyLife TENNIS (April --> October)
Content from Google Maps can't be displayed due to your current cookie settings. To show this content, please click "Consent & Show" to confirm that necessary data will be transferred to Google Maps to enable this service. Further information can be found in our Privacy Policy. Changed your mind? You can revoke your consent at any time via your cookie settings.
Consent & Show
Address
Tennis club Füllerich
Worbstrasse 168, 3073 Muri bei Bern, Switzerland


aLoftyLife TENNIS (October --> March)
Content from Google Maps can't be displayed due to your current cookie settings. To show this content, please click "Consent & Show" to confirm that necessary data will be transferred to Google Maps to enable this service. Further information can be found in our Privacy Policy. Changed your mind? You can revoke your consent at any time via your cookie settings.
Consent & Show
Address
Tivoli Center
Fischrainweg 55, 3048 Ittigen,
Switzerland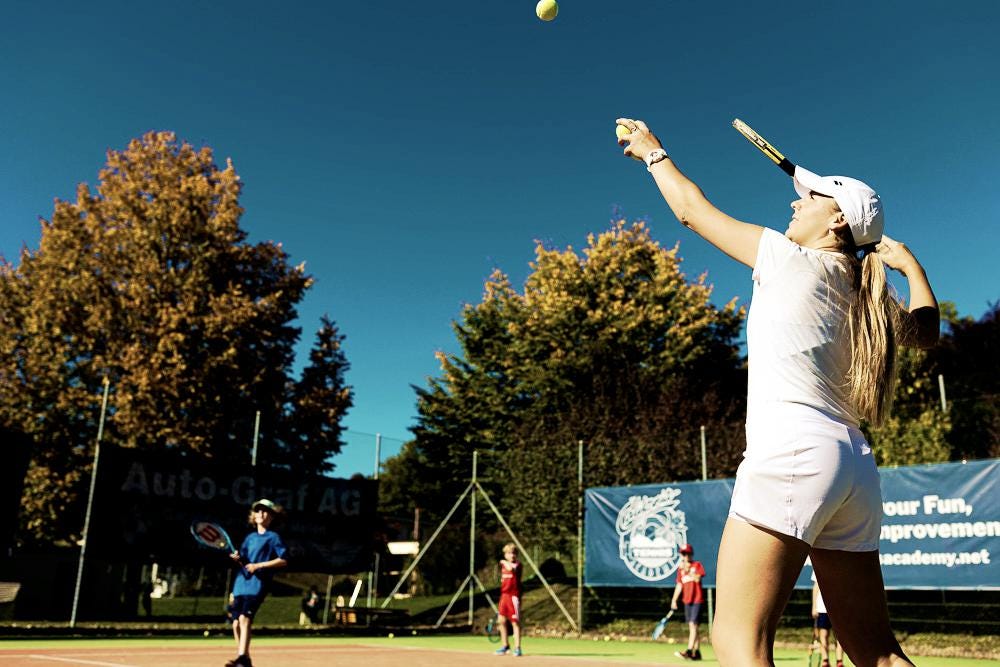 Rained out?
For Juniors, a Junior Fun Day will be held at the end of the season to compensate for training sessions canceled due to weather conditions, and unavailability at any indoor centers that day. For adult group trainings missed due to bad weather, an Adult Fun Tennis day on a Weekend will be organized if indoor courts are not available that day.
If we are able to go indoors, an indoor court fee of CHF 10 is required.